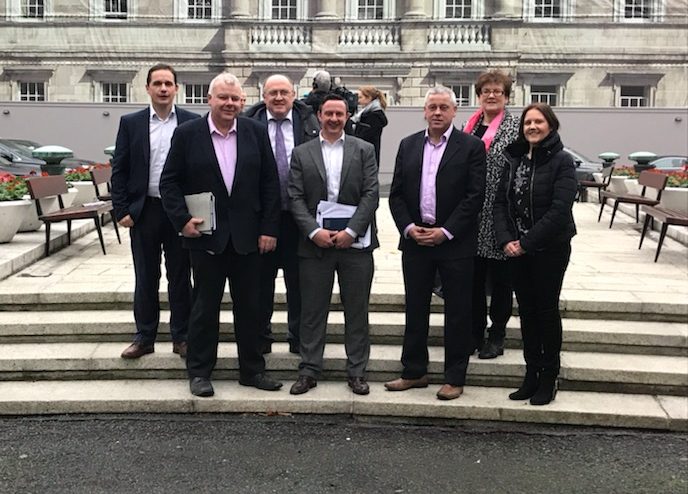 Following a meeting organised by Independent TD Michael Fitzmaurice, Transport Infrastructure Ireland (TII) has given a commitment to fund works to improve safety on the N4 between Boyle and Carrick-on-Shannon.
Working alongside a local community group which was set up to highlight the dangers for motorists around the junctions for Cootehall (L1015) and Croghan (L1024) along the N4, Deputy Fitzmaurice organised a meeting with senior representatives from TII.
Following this afternoon's meeting (Tuesday, December 4), the Roscommon-Galway TD welcomed the progress that has been made.
He said: "The local community group was represented by Noel McTiernan, Michael Cryan, Brian Lee and Sinead Flynn.
"Local councillors Valerie Byrne and Michael Patrick Mulligan – as well as the Head of Roads in Roscommon County Council, Eugene Dwyer – were present at the meeting.
"The other public representatives in the Roscommon-Galway and Sligo-Leitrim constituencies also came together in the fight to get this issue resolved.
"During the meeting, Noel McTiernan from the local community group highlighted the serious road safety concerns for traffic joining and turning off the N4 at the Croghan and Cootehall junctions – as well as the many accidents that have taken place in the area over the years.
"The group has carried out extensive research and compiled a report listing the concerns of people who regularly travel on the stretch of road in question.
"I welcome the fact that the senior representatives from TII acknowledged the concerns highlighted by those present and gave a commitment to fund works to put a right turn filter lane in place.
"It has been agreed that the next phase of the project will consist of drawings of the works required being completed in conjunction with Eugene Dwyer from Roscommon County Council.
"The clock has now started to tick on this project and all of the stakeholders need to work together in unison to overcome any obstacles which may arise.
"These works need to be progressed quickly and efficiently, before someone is seriously injured or even killed at the junctions for Croghan and Cootehall on the N4," Deputy Fitzmaurice concluded.